Jawa text sound is to convert the text into Javanese speech.
Hello friends, this is a follow-up article to the previous article that discussed Sound Of Text WA making ringtones more unique.
Some time ago we gave a complete tutorial on text sound to make ringtones on WhatsApp. This time we will make a ringtone with a Javanese voice.
Of course, this is quite unique, especially if you don't feel confident recording your own Javanese voice. Then you can take advantage of a site that converts text to speech. Then how? Here are the steps.
How to make java text sound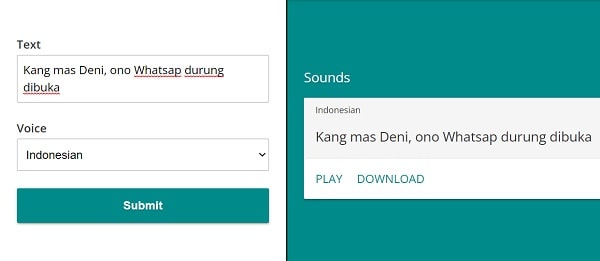 There are several sites that convert text to sound, including Sound of Text Java. The method is quite easy, you just need to enter Javanese words in the site column, then just click submit to convert it to sound.
The first step is to go to the site https://soundoftext.com/.
Then enter Javanese text in the text field.
Select Indonesian in the voice column.
After that, click SUBMIT, wait for the process for a few seconds.
See the results in the Sounds column below, click PLAY to listen or click Download to download the sound.
Use of Voiceoftext.com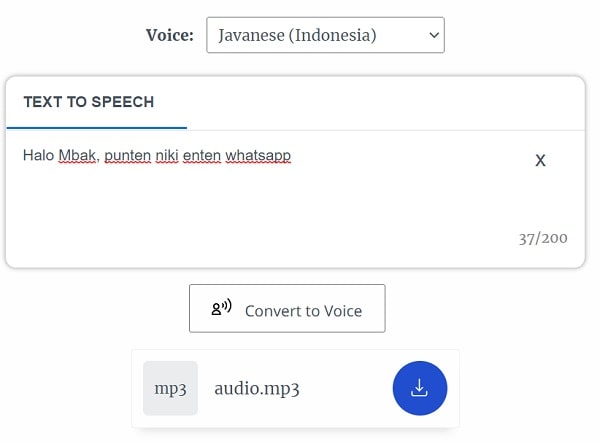 The next way is to use Voiceoftext.com. Interestingly, on this site there is a Javanese (Indonesian) language option available. To make the results even better, here are the steps.
Access https://www.voiceoftext.com/ from your browser.
Fill in the words in the Text-to-speech field.
Select Javanese (Indonesian) in the Voice column.
After that, click "Convert to voice", click the download button.
Later, the Javanese language voice will open as a result of the text, you can download it.
How to install Javanese Sound of Text on WA
For those of you Android cell phone users, of course it will be very easy to install the above downloaded sound to use as WA ringtones, but for iPhone users it might be a bit difficult.
Open the WhatsApp application on your cell phone.
Then click settings or the three dots in the top corner.
Select "Notification Ringtone" in the message section.
Later, many sound options will appear, click "Select from file".
And select the Java Sound of text file you downloaded earlier.
Now your WhatsApp ringtone has changed to Javanese.
Closure
This is how to make Javanese text sound easily and install it on WhatsApp to use as a ringtone for notification tones if there are incoming messages. Hopefully this article will be useful for all of us.