Every day there are unique applications that we can use. one of which is photo editing app to look tall.
Maybe you who are shorter can use this app to enhance yourself, at least look tall in the photo.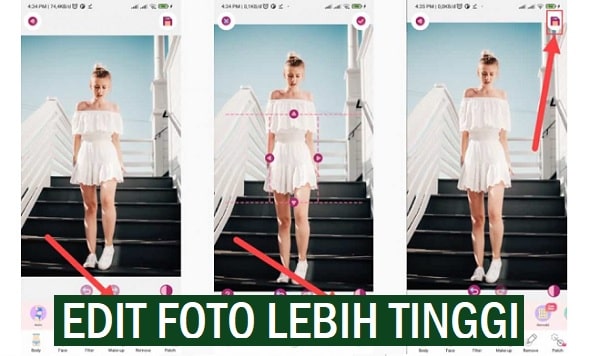 We know that there are currently many types of applications that can make us look more aesthetic. Such an app that can make our face beautiful and clean.
How to edit photos to look tall
How to make photos look tall you can use various applications. If you are proficient in Photoshop, then you can use it.
But if not, you can try some of the Android apps on the Google Playstore. There are many android apps that can do it easily and of course much simpler and easier.
1.Snapseed App
This app can be called a professional photo editing app that has a variety of great features. So far, this app has been used by more than 100 million people with a satisfactory review rating of 4.6 stars.
It has at least 29 great features like filters to beautify images, healing, brushes, HDR, etc.
Interestingly, this application is not only capable of opening JPG files, but also RAW files from digital cameras. This is obviously very beneficial for photo editors.
Not only that, Snapseed is also a photo editing app to make you look tall. The method is quite simple, you just need to select the photo to edit.
Sign in to the Snapseed app.
Select Tools.
Then click on the Perspective feature.
Click the Tilt menu.
Simply swipe up to go up or sideways to fatten up.
If it looks good, just click on the mark.
Do not forget to export so that the photos are saved in the gallery, and that's it.
2. Perfect Me App – Photo Editing to Look Tall
In fact, this app is not as popular as Snapseed, but if you look at its features, it is quite feasible that it has it.
So far this app developed by ryzenrise has been downloaded by more than 10 million people with a perfect 4.8 star review rating.
This app is very responsive to edit face and body. It makes you look more perfect, beautiful clean, and also become taller.
Some of the great features include the ability to enhance the body, it is true that this photo editing app to make you look tall is very easy to do.
Download and install the app.
Then open the Perfect Me app.
Select the photo to edit and add it.
On the Body menu, click Height and adjust the outline of your body.
Simply slide the slider up to enhance the body.
Click on the mark to finish editing.
Save to save the photo in the phone gallery.
conclusion
Those are two apps that are quite unique as the best photo editing app that can make your height different and look taller. You just have to choose one of these applications.