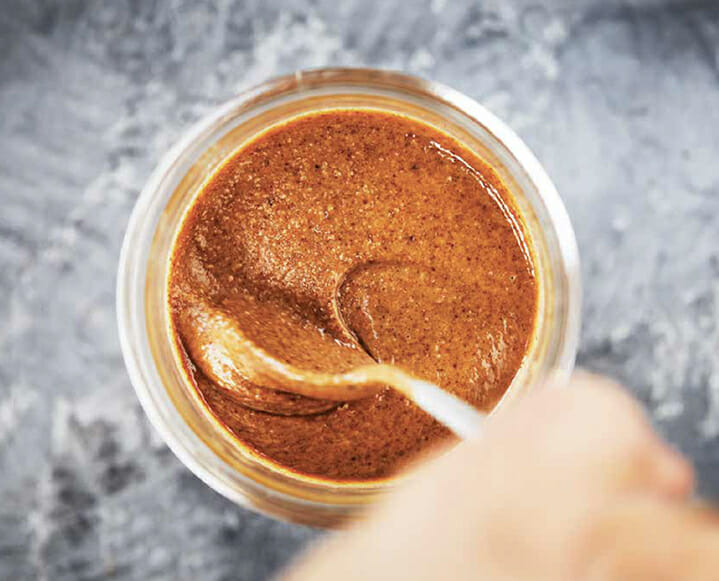 we have been bringing you awesome wellness recipes from Green Kitchen Stories for years. You just can't lose to this Swedish power couple and this buttery granola recipe is the perfect test. Learn how to make this delicious pasta from her new cookbook, Green Kitchen: Quick & Slow, 80 cheerful vegetarian recipes to make busy weekdays easy and long weekends great.
How to make granola butter
We've taken some of our favorite components for breakfast.—granola, nut butter, and coffee, blending them into a tasty spread that's great on toast, but also delicious drizzled, dipped, or devoured by the spoonful. Try it with yogurt or with our Chocolate Waffle Toasts, Ginger Nut Butter Brownies + Raspberry Stuffed Dates, all available in Green Kitchen: Fast and Slow!
Makes 16 ounces
INGREDIENTS
+ 10 oz/2 cups almonds
+ 3½ oz/1 cup rolled oats
+ 4 tablespoons of extra virgin olive oil
+ 2 tablespoons coconut oil
+ 1 tablespoon coconut sugar (optional)
+ 1 teaspoon ground cinnamon
+ 1 teaspoon instant espresso powder (optional)
+ 1 teaspoon of salt 5 tablespoons of raisins
INSTRUCTIONS
1. Preheat oven to 160°C (325°F/Gas 3).
2. Place almonds and oats on a baking sheet and toast for 15 to 18 minutes, or until golden brown and fragrant. Making sure they are properly toasted will give you a nut butter with a deeper flavor and will also aid in the blending process. Check if they are done by cutting an almond in half: it should look slightly golden in the center.
3. Transfer the almonds and oats to a high-speed food processor, reserving a handful for later, and blend for 10 to 15 minutes. Be patient: it will first turn into a fine flour, then a big lump, and finally a thick nut butter. You'll need to stop and scrape down the sides from time to time, and depending on the strength of the food processor, it may also need a break so it doesn't overheat.
4. Add the remaining ingredients and mix again for just a minute – this will add flavor and loosen the butter to a more runny consistency, while also providing the texture and crunch of the reserved pecans and raisins. Pour into a clean jar and seal with a lid. This will keep at room temperature for up to a few weeks.

Nut change: You can use any nuts and seeds you like. We often use this recipe to empty our jars so that there is sometimes a handful of hazelnuts, sunflower seeds or a mixture of all. The seeds do not contain the same amount of fat, so you may need to add additional oil as you mix.
Reproduced with permission from Phaidon. All rights reserved.
Share the post "How to make granola butter: the vegan breakfast we live for"